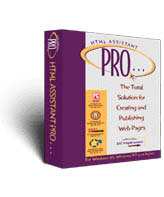 HTML Assistant Pro 2000
HTML Assistant Pro 2000 is a tag editor that makes Web page creation easy and fun without hiding the HTML code from you. With HTML Assistant Pro 2000 you can very quickly create your Web site and easily edit your Web pages from there on in.
HTML Assistant Pro ensures that you'll have all the tools necessary for developing even the most complex of Web sites. Features include:
Table, Form, Background, and Image Map Assistants guide you through the process of designing complex Web elements.

When it comes to implementing frames, there are few tools currently available that are more powerful and intuitive to use than HTML Assistant's QuickFrames.

Edit your work without leaving the editor, so you can quickly see how your page will look on the Web.

HTML Assistant Pro is the beautiful "middle ground" that allows users to write HTML and gives you the control that you want and need over the page.

And you'll automatically learn HTML at the same time!
We think WebReview.com put it best when they said HTML Assistant Pro, "is kind to complete beginners, and yet feature rich enough for experienced Webmasters. Not being WYSIWYG is an advantage as the user will eventually learn control of the HTML and there are none of the usual compromises WYSIWYG insists on, like poor construction and redundant tags. As a tool for the creation of web pages by beginner or experienced user, it is a friendly, well presented program with some nicely designed extras at a very good price."
Product Features
Features Matrix:
| | |
| --- | --- |
| Feature: | Benefit: |
| Support for multimedia tags, such as JavaScript, and DHTML. | Create cutting-edge work with HTML Assistant Pro. |
| Add new HTML tags with the customizable User Tool Bar. | Your editor and your work will always be up to date. |
| Built in Site Assistant and Quick Publish features | You can up-load your pages instantly as you make changes to your site. Pro 2000 will automatically find and place your new page in the proper location at your server. |
| Easy to use Main Tool Bar -- the tools you use most often are clearly marked and readily accessible. | This makes HTML page creation quick and easy, even for beginners. |
| With Pro 2000's Quick View feature you can preview your work instantly. | See how your page looks in Internet Explorer at the touch of button |
| Import word processor files, including formatting and tables, with RTF to HTML conversion. | No need to retype your existing documents. Bring them into HTML Assistant Pro as RTF files and they will automatically be converted to HTML. This feature also makes it easy to copy tables from your favorite spread sheet and paste them into your Web pages. |
| Frames are easy with HTML Assistant Pro's Quick Frames. | Pro provides a list of commonly used frame layouts as part of its frame dialog. This quickly gets a user past the arduous task of defining layouts. |
| Multiple File Replace | Modify multiple documents simultaneously, and save yourself hours of labor. |
| Speed up your work with Colored Tags, Spell Checker, and virtually unlimited Undo and Redo. | Edit your code effortlessly, eliminate typos, experiment and make changes without fear of losing your work. |
| Tag text, paste URLs, position and format graphics, and create backgrounds, tables, forms, frames, and image maps, all quickly and precisely. | Write and tweak your HTML to perfection. You have full control of the code in HTML Assistant Pro. |
System Requirements
HTML Assistant Pro 2000 is compliant with the following Windows platforms - Windows Vista, Windows XP, Windows 2000, Windows ME, Windows 98SE, Windows 98, and Windows 95.
Download the HTML Assistant Pro - Product Sheet in PDF format.